UN "Peacekeepers"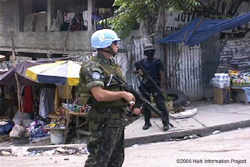 A UN soldier and an HNP officer watch a demonstration in Port-au-Prince. UN forces have rarely intervened when the HNP have fired on peaceful demonstrators, and are now taking an active role in hunting down political opponents of the government.
Haitians demonstrators at the UN's Port-au-Prince headquarters after the massacre.
UN "Peacekeepers" Helping Silence the Poor in Haiti
Since taking over from the U.S.-Canadian-French occupying force on June 1, the Brazilian-led UN Stabilization Mission in Haiti (MINUSTAH) has had the task of reducing insecurity and protecting human rights. According to a Harvard Law School report, however, the UN forces have frequently done just the opposite: "MINUSTAH has effectively provided cover for the police to wage a campaign of terror in Port-au-Prince's slums. Even more distressing than MINUSTAH's complicity in HNP abuses are credible allegations of human rights abuses perpetrated by MINUSTAH itself."
Canada plays a major role in committing these abuses: Canadian advisors are present in the UN military command and RCMP police officer David Beer heads the 1,401 strong UN Civilian Police (CIVPOL) in charge of restructuring, training and monitoring the Haitian National Police (HNP); Canada has also contributed over 100 RCMP officers to CIVPOL.
On numerous occasions, UN peacekeepers have stood by as HNP officers have opened fire on peaceful demonstrators. In addition, the UN have been very active in supporting brutal HNP "weapons raids" into the poor slums of Port-au-Prince, despite evidence that suggests that most of the firearms in Haiti are located in the rich neighbourhoods.
Under pressure from Haiti's business elites, and from American and Canadian embassies, to "get tough on bandits", the UN troops have begun committing massacres of their own: On July 6, in an operation involving over tanks, helicopters, and over 350 troops, UN forces killed as many as eighty people in Cite Soleil, the largest and poorest slum in Haiti. A labour/human rights delegation sponsored by the San Francisco Labour Council reported that residents claimed to have seen 23 bodies after a raid by UN forces to kill "gang leader" Dred Wilme in the early morning. People were killed in their homes and also just outside of their homes, on the way to work.
While a UN military spokesman claimed that only "armed bandits who had tried to resist were either killed or wounded," aid agency Medecin Sans Frontiers (Doctors Without Borders) claimed that 3/4 of those treated for gunshot wounds were women and children.